Today, the boys and I had a nice outing. It was our typical Wednesday: comic book store, Starbucks for chocolate milk (exchanging potty try for The Boy's milk), and dinner. This week and last week, I let The Boy choose where we ate: "cheese sandwich" (Quiznos), "pizza" (little hole in the wall place), "noodles" (Lulu's Noodles, a Chinese place), or Eat'n'Park. This week, we had Chinese.
The boys are really pretty good in restaurants, but it helps that I know what we're going to order before we sit down. I try to set us up for success: quick ordering, entertainment at the table, and preparations for a quick exit. The boys are babies and will misbehave if allowed to be bored; if kept engaged, they stay well-behaved.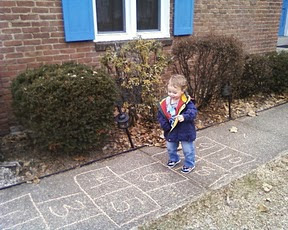 We sang songs, tapped the table in rhythm, used chopsticks as drum sticks, and made letters from silverware. When the food came, we were excited for it. I paid the bill while we were still eating, so that we were able to leave before antsy-ness turns into "wow, look at THAT kid." I didn't have our usual bag of books and toys, so we improvised a bit.
(Above: "I not want to go outside! I'm hiding!")
After dinner we went home and played outside for a bit. It's really cool to see how Little Bear is developing: he's able to climb the ladder and go down the slide lots easier than a couple of months ago. He even wants to go on the big boy swing instead of the baby swing!
Bathtime, stories and bed... an altogether wonderful evening. These are the little memories and experiences that let us have a happy family!
- Posted using BlogPress from my iPhone