The rest of the weekend went fairly uneventfully. Saturday was a gorgeous day and the first sunny day that we've had in Western Pennsylvania in quite some time. The Wife went north to work with a middle school orchestra for the morning, then she went to a show with Grandma and Aunt W for the rest of the afternoon, so it was Bachelor Day at La Casa de Music: Grandpa, Musical Daddy, and the boys. We did some nice playing outside, some nicer resting, and then we took the boys to Blue Slide Park.
It is so fascinating to remember what Blue Slide Park was like for them last fall. It's only been six months since we we going there on a regular basis, but it's been a busy six months developmentally. Little Bear is now able to play on practically anything in the park, and he really enjoyed the bouncy bridge on Saturday. He could walk up the steep, steep hill to go down the big blue slide, both activities by himself, and he can even sort of wait in line. The Boy is climbing easily up the ladders, and he gave a mighty attempt to go up the little climbing wall. He's even starting to try to get into the games that other kids are playing!
Sunday, The Boy was invited to go to a birthday party of a schoolmate. It was a "Royal Ball" themed party, so we dressed him up in a nice little suit and took him to the party. The party was just darling: the perfect length, with well-chosen snacks and yummy cake. There were arts and crafts to make, such as the crown that King Boy made:
The Wife was in no mood to deal with the boy that afternoon, mostly because she was up until late-o'clock in the morning making some recordings for me. So, I took him. It's kind of an awkward thing for me, because I was one of three fathers at the party (compared to about ten mommies or so), and because everybody else seemed to know each other from other children or other activities or whatever. So, there weren't many people who were willing to allow me into their conversations.
Still, The Boy had a marvelous time, and I enjoyed myself playing with him and the other kids and talking to the mommies who were cool enough to talk to me.
Side note: The Boy has been going gaga for Dr. Seuss over the past week.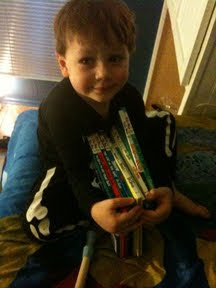 He has been reading the books on the iPad that we have: Cat in the Hat, Green Eggs and Ham (his favorite), 1 Fish 2 Fish, Lorax (his next favorite), and Cat in the Hat Comes Back (his third favorite, which is on Grandma's iPad and not mine). They are well-designed apps that encourage experimentation and exploration, and I'm amazed at how thoroughly and joyously he's consuming those stories.
- Posted using BlogPress from my iPad