This morning, The Wife and I dropped The Boy off at camp and went to her normally scheduled checkup at the obstetrician's office. There's no unusual movement yet, just the normal stuff. We are officially at 39 weeks, with the due date next Wednesday, so we are officially on any minute now notice. We aren't expecting anything to happen soon (in the next day or so), particularly considering our history. The Boy, as you'll remember, was born ten days late. The Wife went into labor with Little Bear on the due date, giving birth the next day.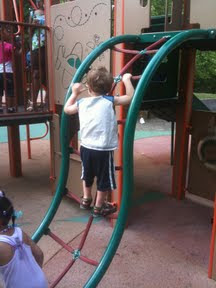 From there, we went to a northern suburb. This is a similar commute to my second New Jersey job, where there was no way to get there from home. It's about an hour's trip. The interesting thing? They had two jobs, and the principal (who seemed like a cool guy) interviewed us both at the same time. It was an interesting experience, working with my wife in that regards, because we play off of each other nicely. I think we make a really good team, and if we ever had the chance to work together... watch out!
The interview went well, then, although due to the vagaries of vacations, administrative furloughs, and Board meetings, we won't hear anything for a few weeks.
From the interview, we went and picked The Boy up at school. Grandma generously provided for him to stay at school in an afternoon session, which was called "cooking class." They cooked banana flavored mini muffins, then spent a long time playing outside. When we got there, The Boy was tired, hot, sweaty, and happy. He didn't like the muffin that he made, but he was happy to share it. He got quite upset when we left, even more so when we realized that we left his yellow construction hat at school. Nap time, indeed.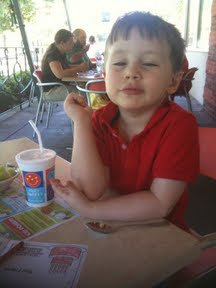 Little Bear, meanwhile, stayed home with Grandma and Aunt J. He made his first ever poo on the potty, which was a huge deal. When we got home, he even went to the potty twice for me, which he hadn't done before. The second time, he didn't even complain! Again, a huge victory for my wife. We aren't over the hill in the potty training thing, but we have at least started the way up and caught sight of the crest.
Barbershop convention and competition is live this week from Kansas City. Should be fun to hear!
- Posted using BlogPress from my iPad