Things have gone quite well during the first day of The Baby's life. Grandma, Grandpa, and the boys came by around noon, and it was amazing. The boys were so cute and so attentive and so good! The Boy sang The Baby some songs and marvelled at the little tiny toes and ears and fingers. Little Bear was somewhat interested, but not as much as his brother.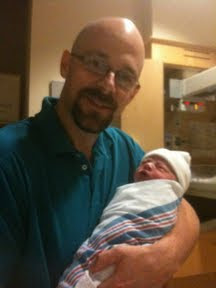 Once we spent enough time, Grandma volunteered to stay with The Wife and The Baby. I went home with Grandpa and the boys, and the three of us napped for quite some time. Once we got up and had a snack and some potty time, the grandparents took the boys to dinner and I came back to the hospital to hang out.
The evening has been nice. I've hung out here and held the baby and watched movies on the iPad. I'm going home in an hour to put the boys to bed and get ready for my rehearsal tomorrow.
- Posted using BlogPress from my iPhone