Today, we took the boys to Kennywood, a local amusement park located about twenty minutes (in moderate traffic) from our home. This was the first time we had brought the boys to an amusement park since about this time last summer, so we were fascinated to see what things would be like. We picked up our discount tickets at Giant Eagle on the way out, paid for parking (got a spot about twenty-five feet from the entrance), met an old school friend of The Wife's, and proceeded into the park.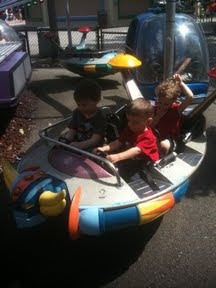 The Boy and I immediately went on a small roller coaster called the Jackrabbit, which we had gone on last summer. He patiently waited in line, and then we climbed into the car. We had an amazing ride! The scariest bit of the day came immediately afterwards, when he followed a group of boys away from me. I lost track of him for a very scary couple of minutes, until one of the nearby parents pointed him out to me. I had a picture of him from the park entranceway, so I wasn't too scared, but he's little and quick. Crisis averted, we went to find the rest of the family in Kiddieland.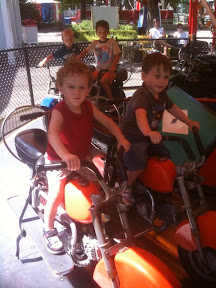 The boys had a wonderful time in Kiddieland. The rides are cute and the waits are very, very short - the longest wait time in Kiddieland all day was about two minutes, for the enclosed ferris wheel ride. Little Bear started to melt down after around an hour, so we had lunch and sent the two younger ones home with Mum while I stayed with The Boy.
Here is where I was pleasantly surprised: he was utterly ideal and perfect for the three hours we were alone! We went on about a dozen rides or so, mostly adult rides like the log flume, spinning pods, and the pirate ship. The lines were long, but not unreasonably so, and my first suspicion was that he was going to flip out while we were waiting. What surprised me was that he didn't flip out, he waited quite patiently and well, and he actually asked to go on a whole bunch of rides despite long lines! Kennywood has a large selection of rides that a 40-inch high child can ride with an adult, which gave us a lot of options on the day.
Eventually the rest of the family returned to the park. One of the biggest benefits of living so close is that we can send people home to nap and to rest and bring them back in more than enough time to enjoy the evening! Little Bear was still overtired and overstimulted, so he was having a hard time with the concept of waiting. He's also still quite young, even though he's huge compared to other children. He wasn't able to handle waiting the fifteen minutes waiting for a bigger ride, so he and I and The Baby went to Kiddieland to wait for The Boy and Mum. Any wait of more than ten seconds was really, really difficult for him. He flipped out when the exit gate was left open while kids were exiting, and he wasn't allowed to enter at that moment.
Still, we had a nice time, and he really loved the elephants ride. The plane and the helicopter rides were also really cool to him, but the Phantom, jr., roller coaster was a little too scary. We left soon after, stopped at Eat N Park for dinner, and put two overtired boys to bed early tonight. This was an amazing day an an awful lot of fun for everybody. I can't wait to go back, and I'm so looking forward to bringing the boys when they love going on all of the rides!
- Posted using BlogPress from my iPad